Wednesday, October 28, 2009
Sonnys BBQ Coupon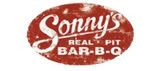 Sonnys is offering up a $5 coupon on a $25 purchase.
Sign up
Here
for the RU Smokin'. If you're smokin' now and want to keep on keeping up with all that's hot at
Sonny's Bar-B-Q, then make sure you sign up to receive 'Fresh From the Pit' updates.
I love me some Sonnys, espically since I have been pregnant!
Subscribe to Posts [Atom]